You're not lost - You're here!
— Possum Springs slogan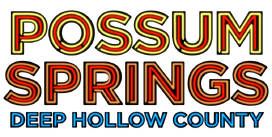 Possum Springs is the setting of Night in the Woods. It is the town where protagonist Mae Borowski was born and raised, and where she returns to live with her parents after dropping out of college. Possum Springs, located in "Deep Hollow County", is built on a flood plain in a valley surrounded by state forest. The town is prone to sink holes.
Background
Originally founded in 1795, the Deep Hollow County town is now suffering from hard times. Several old buildings are abandoned and boarded up. The main industry of the town was once its copper mine. The mine closed in the 1980s, resulting in massive unemployment. A saw mill and a glass factory also closed. Remnants of these industries are visible throughout the game.
A trolley system tunnel is built underneath the town. Trolleys used to move people to the mine, but the station platform is still kept open to the public so they can visit a 50 year old pierogi stand.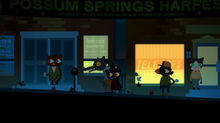 Trains still run on railroad tracks on the outskirts of Possum Springs.
The town holds an annual Harvest Festival (colloquially called Harfest) in October. During the festival, the townsfolk perform a play which chronicles the founding of Possum Springs.
The local grocery store, Food Donkey, closed almost a year before the start of the game. Townspeople now buy from the Snack Falcon convenience store or drive to the highway to do their shopping at the outlet stores and the Ham Panther.
Towne Centre
Other Locations
Roads
Arbor Street
Chestnut Street
History
Founding
Possum Springs was originally settled in 1795 by beaver fur trappers[1], most notably Brothers John and Steven, who were attracted to the fresh springs from which the town bears its name from. The town itself was properly founded two years later.
Stafford Mine Explosion
In 1888, Addison Pine and Henry Harvey, 10 miles deep into the Stafford mine, set off explosions that unwittingly collapsed the mine and trapping those working in the area. This was due to pockets of gas in that section that the mine bosses were said to have been aware of, but chose not to inform the Pine and Harvey of the danger. A total of 112 miners had died and the last bodies were only recovered 2 days before the one year anniversary of the mine explosion.
Trivia
The inspiration for Possum Springs is mostly based on mining and industrial towns in rural Pennsylvania. 
Gallery
References
↑

Harfest play, Bea to the actors playing the Possum Springs founders: "Through the mists of time I see / weary fur trappers, from 1793."
Community content is available under
CC-BY-SA
unless otherwise noted.