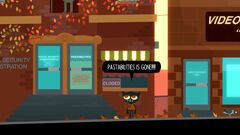 Pastabilities
(now closed) was a small Pasta place next to the Social Security Administration building.
Taco Buck
moved into the old
Pastabilities
. If you go to the new
Taco Buck
at the end of the game, you should be able to talk to
Danny
outside the store who is holding a sign that reads
"TACO BUCK, NOW HIRING"
.
Trivia
Apparently, there is a real restaurant called "Pastabilites"[1]