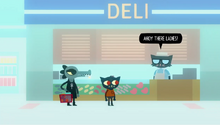 The Ham Panther is Possum Spring's principal grocery store, replacing the now-defunct Food Donkey. The store is located by the highway, outside of town and cannot be encountered on foot. It is heavily implied that the store doesn't pay very well and that promotions there are seldom and far between.
Night in the Woods
The store may be visited in the chapter, 'dinner at Bea's,' where Mae is tasked with picking the ingredients for the night's dinner. Dull chatter may be heard over the intercom and the store overall has a very sterile ambiance.
Stan Borowski is encountered at his job as the store's deli clerk, where Mae will choose what meat to get.
Trivia
Bea comments that a local senator is on the store's board of directors.
Mae's old music teacher Mr. Armistead works as a greeter there.