The 1063 Building is a multistory apartment building in Towne Centre in which Gregg and Angus live in. The building also has a roof access that can only be reached during the second day of Part 3.
Description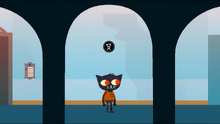 The brick 1063 apartment building stands between Miller's and the Pastabilities building, which later becomes Taco Buck. On the outside, it appears to have four floors, plus a roof door access enclosure at the top. Its only noteworthy characteristic is the black address plaque to the right of the door.
Inside the main lobby, the walls are blue with tan baseboards. On the left side is an elevator door with an intercom to its right, while the right side is a doorway leading to the stair access. Oddly enough, the elevator displays five-floor indicator lights, alluding to a total of five floors, despite the exterior showing only four.
There are a total of six tenants (as seen on the intercom), one of which being Gregg and Angus.
Night in the Woods
Part 1: Home Again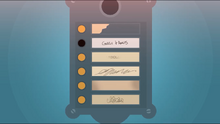 Looking for Angus to fix her laptop on the second day, Mae gains access to the building after finding out Angus is not at the Video Outpost "Too". When inside, Mae can only interact with the lobby intercom and can buzz each tenant individually, as Gregg & Angus's button is missing.
After discovering none of the intercom buttons reaches Angus, Mae will reach inside the hole for the buzzer of Gregg and Angus's apartment after pressing another button, shocking herself, but also buzzing Angus. Soon after, Angus will send down the elevator for Mae to come up to his apartment.
Part 2: Weird Autumn
During the scene 'crimes', Gregg and Mae will have to push up a crate full of animatronic parts up the building's stairwell into Gregg and Angus's apartment.
Part 3: The Long Fall
During the third band practice, Gregg mentions that workers had come by to fix the roof door which kept him up at night. This roof access allows anyone from the lobby to go straight up onto the roof.
In the day after, Mae can once again access the building lobby, but can now access the door to the right which will immediately transport the player to the top of the building. From here Mae can reach the top of the Husker Bee Ballroom to the left or to a weather station on the right. The roof door will be accessible everyday in Towne Centre until the Epilogue, where 1063 is no longer capable of being entered.